Start of main content
Engineering Education Grant Scheme
The Engineering Education Grant Scheme (EEGS) supports UK-based educational projects which increase engineering knowledge, improve wider engineering literacy and bring about a better understanding of the role of the engineer, and the contribution engineering makes to society, among young people aged 4-19. Any UK project aiming to promote a better understanding of engineering, inspire young people to study STEM subjects or raise awareness of engineering and technology-based careers could be funded.
Full details, eligibility criteria and an overview of the entire process can be found on our EEGS Guidance.
This scheme is jointly funded by the Institution of Engineering and Technology (IET) and the Institution of Mechanical Engineers (IMechE).
Who is eligible to receive funding? 
Any organisation or individuals delivering UK-based educational activities, including schools, youth groups, IET or IMechE members and STEM organisations can apply. However, individual schools, and organisations directly funded by IET or IMechE may not be eligible. Please read through the full eligibility criteria found on EEGS Guidance.
What projects are eligible for funding?
A wide range of projects can be supported. Any activities or projects receiving IET or IMechE funding are ineligible for submission. There are a few items the scheme cannot cover and for a list of exclusions please read the EEGS guidance.
How much grant funding is available?
Two levels of funding and two funding rounds are available each year, in the Spring and Autumn. Awards of up to £5,000 are available for standard applications, and a small number of awards of up to £15,000 are available for projects aiming to make a bigger impact.
What is a successful project?
To increase your chances of success, your application should demonstrate diverse expertise and a range of skills from a variety of sectors. Applications will be assessed by a panel of judges against the criteria listed in the EEGS Guidance.
All projects must involve IET or IMechE members, who act as an Advocate for your project. Any project without an Advocate must secure one before beginning a project application.
Available are overviews of previous successfully funded projects, including a video clip of the grant at work supporting family learning workshops at the Beacon Museum.
 Previously successful applicants and projects
What has the scheme achieved to date?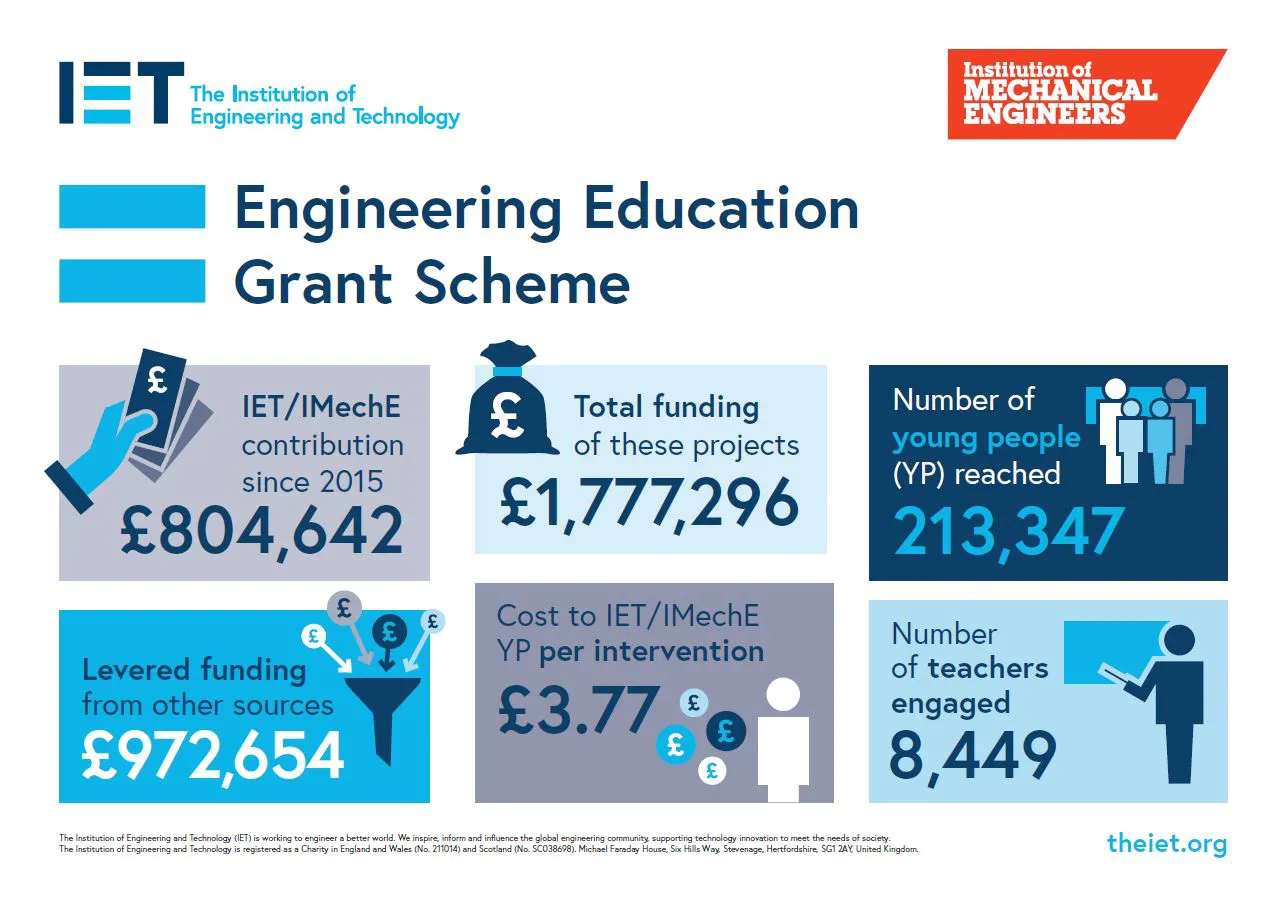 Workshops at the Beacon Museum
What if my project application is successful?
All applicants will be notified of the outcome of their application by email during the announcement week.
In recognition of the support you have received from the fund, you will be required to include IET and IMechE branding on any materials relating to the activity.
All grant recipients are expected to provide an evaluation of their successful project in the form of an online Outcome Report. Therefore, it is essential to review all evaluation requirements before you begin your application, to ensure you will be able to gather the information necessary. Full details are provided in our Evaluation Guidance and Impact evaluation.
When are the 2022 funding rounds?
Projects must commence within seven months of the decision week.
| | | | |
| --- | --- | --- | --- |
| Scheme opens | Closing date | Announcement week | Funding available |
| 24 January, 9am | 15 April, 11.59pm | 13 June | August |
| 11 July, 9am | 7 October, 11.59pm | 14 November | January |
How do I apply?
The Online application guidance will assist you in applying using our simple online application form.
It is vital to read and be aware of the following before you submit your application to improve application success.
Select 'apply for a grant' to be taken to our log-in page to begin. First time users must create an account before beginning a submission.
For any queries not already answered in the Guidance or FAQs please contact the EEGS Team.