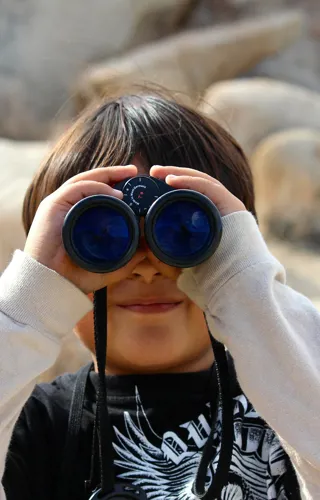 Undercover engineers podcast
From shark detection technology and artificial reefs for marine wildlife to the latest real-life cyber crime, nano materials and smartwatches saving lives, you can get thinking about what will be next.
Kick start your way to making a difference and help engineer a better world.

Join us on social media @IETeducation for all the latest – we'd love to hear from you.
Smart Cities
One of the great things about engineering is that it's not confined to diagrams and laboratories, it's all around us, in our homes, towns and cities.
In this podcast we talk to Larissa Suzuki to find out how engineering and technology can help improve the spaces in which we live, work and play, and how our cities are getting smarter!
Wondering what makes a city smart? Listen to the podcast to find out!
Opportunities for young people
There are more opportunities for young people wanting to get into engineering then ever before.
In this podcast we will be checking out some exciting events that you can get involved in and talking to two engineers who have had very interesting experiences as young people, and now work at the forefront of new technology.
Medical AI
Medical consultants perform a vital job in our healthcare system – diagnosing diseases, such as cancer, and deciding on treatment options for each patient.
It's a job that takes an immense amount of skill, not least as no two patients – or tumours are the same – but it's one that is being given a massive boost by an exciting new sphere of medical engineering.
In this podcast we talk to Alyssa Randall on how computer intelligence is changing the way we will diagnose and treat patients in the future.
Cyber security
Cyber security is a vast underground world, and an enormous field in engineering – one where companies are in a constant race with hackers to keep us, our information and even our countries safe from attack.
We catch the latest from Adeeb who has developed a social media networking app, and worked on threat intelligence and malwear analysis. Find out the interesting facts from Adeeb as we explore more…
Manipulating materials
When you think of material, what comes to mind?
Here's the thing – there is a sphere of engineering dedicated entirely to materials, right down to the particles of their matter to develop smart new products.
In this episode we take a look at aerogel, the lightest solid that can hold the weight of a car and we speak to Chris Bellamy about what he does with ski goggles, sewing, testing products and more!
Santa called
Check out the latest podcast release to find out all about how he wants you to join in.
This year, Santa's STEM workshop is jam-packed with fun activities, crafts and experiments for all the family!
Listen in for a quick slice of festive spirit this December!'
Oceans
In this episode we find out about ocean tech and spoke to Vic Grosjean.
Vic Grosjean is an ocean innovator and engineer working to develop new technologies and solve problems like detecting sharks at busy beaches before they become a danger to the community.
Vic has also developed cutting-edge technology to monitor and remove pollution from waterways and clean up our oceans.
His environmental project, 'The Ocean CleanX', was awarded at the United Nations in 2018 for his approach in stopping the pollution at its sources. 
If you've enjoyed listening to this series of podcasts, why not download our Careers Pack for more information, have at go at some hands-on activities and sign up to our education bulletin for the latest competitions and updates each month.