Start of main content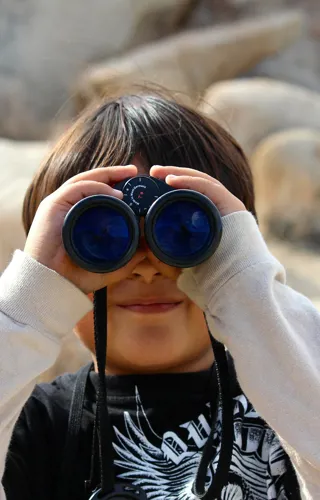 Undercover engineers podcast
From shark detection technology and artificial reefs for marine wildlife to the latest real-life cyber crime, nano materials and smartwatches saving lives, you can get thinking about what will be next.
Kick start your way to making a difference and help engineer a better world.

Join us on social media @IETeducation for all the latest – we'd love to hear from you.
The Royal Mint
This month we will see King Charles III crowned as Sovereign of the British Isles and Commonwealth. For years his mother, Queen Elizabeth II, was the face of our currency so what does King Charles' ascension mean for our coinage and future production? 
We caught up with Craig Lancett at the Royal Mint to find out about the engineering behind transforming the face of our pocket change.
Future foods
Food! We all need it to survive and, as the population grows, we'll need more and more! Producing enough for everyone in the future is going to be a huge challenge.
In this episode we will find out how engineers are playing their part to help feed the planet.
We look at how new agricultural technologies are playing a significant role making farming and food production more sustainable as well as taking care of livestock. Hydrologist Nadav Tal explains how engineers are able to grow meat in laboratories making it a more ethical alternative to meat farming and pushing the boundaries into orbit!
Inclusivity
In this bonus podcast, we continue talking to our robotics expert Eneni Bambara-Abban about her journey into engineering and the experiences she had along the way as a young black female.
We discover why inclusivity and diversity are important in industry and how there is room for all.  
Remarkable robotics
When you hear the word 'robotics' you might think of a humanoid machine doing the housework or carrying out other daily tasks, but actually robotics can cover all different kinds of machines designed to do a wide range of very specific jobs. Think automatic carwash, vending machines or doors that open when a sensor is tripped.
In this episode we learn about the history of robotics and how, where and why they are used, and where we are hoping they will take us in the future. Eneni Bambara-Abban is a robotics expert, who tells us why it's such an exciting field of engineering to work in.
Colour me happy
You may not have noticed it yet, but the lighting in our homes, workplaces and in many different types of transportation, is undergoing a radical change in a mission to help improve our environment, which in turn could lead to us being healthier and more cheerful in our everyday lives!
In this episode, we learn about our circadian rhythm and talk to Connie Rudman, a design engineer at Jaguar Land Rover, who helps develop interior lighting solutions for vehicles. Connie also works closely with their Early Careers and Talent team to improve the apprenticeship she is on and encourage other young people into the programme. To shine a light on this topic, give it listen now!
Fizz pop bang! The science of fireworks
In this episode, we explore the science behind getting things to burn a certain way and delve into the engineering behind pyrotechnics, propellants, and explosives. We hear how these dazzling displays are created and about their chemical reactions, as well as discovering how engineers and technicians are developing them for other uses and controlling them with computers!
We talk to Dr Christine McGee, a research fellow at Cranfield University in the Centre for Defence Chemistry, whose research examines energetic materials which, day to day, means she 3D prints items that burn or blow up! How exciting! To find out more, listen to the podcast.
Christmas lights
It's the most wonderful time of the year!
Christmas really is a magical time but did you know that engineering is behind a lot of this magic? From the curtain rising at your favourite pantomime, to watching a Christmas film or seeing the Christmas illuminations switch on in your local town – engineering is working hard to bring the festivities of Christmas to life.
In this episode we talk to Joe Sandford-Hughes, an engineer and CEO of Pytch, a company who design and create the lighting for the Christmas light trail at Westonbirt Arboretum in Gloucestershire. Joe tells us what goes into creating such an impressive light trail and what technology future engineers could be using to really bring the magic of Christmas to life.
So, grab a mince pie, plug your headphones in and cosy up for this latest podcast and find out if perhaps a career as a lighting engineer is for you!
It's a Goal: Football Engineering
Have you ever watched a game of your favourite sport and thought your team deserved to win? Maybe it was a football goal from the other team that from your angle looked like it was offside. Or maybe the whistle blew just as a goal went in and you think they should have counted it!
No matter what the sport there are winners and losers – but how can we make sure referees and umpires make the right decisions? How can we be sure the ball went over the line – or didn't? 
In this episode we talk to Michael Davis, a data analyst at Leicester City Football Club to talk about what his job involves and what technology and engineering is being used in football from heart rate monitors to GPS trackers.
Mind-blowing neuroscience
Neuroscience is the study of the brain and the nervous system. Where do engineers come in? Well, neuroscientists are using technology, designed by engineers, to treat patients with paralysis, Parkinson's, Alzheimer's, and other illnesses.
Think of our brains as roads in a city carrying signals to different parts of the body, for example from our brain to our legs to tell them to move. When one of the roads are damaged, it means that these signals aren't carried to the right place. We spoke to Professor Grégoire Courtine, a neuroscientist, who talks about his latest work using technology to help paralysed people walk.
Amazing algorithms
Whether we are working, having fun, or resting, nearly every aspect of our lives involves computer programmes. From the games and apps we download, to the technology in our cars, computer programmes keep us connected to the environment around us.
In this podcast we talk to Sukanya Ghosh, whose work involves algorithms.
What are algorithms? They are a set of steps a program will go through to deliver an outcome. In our digital world for example, search engines use algorithms to learn about what we like and tailor results to our preferences, but this is not always to our benefit.
Listen to the episode to learn more about algorithms and how programmers are making algorithms smarter. 
Awesome audio
Whether it is a ticking clock, voices, music, or traffic from our roads, we are surrounding by sound that we give little thought to. But did you know there is a whole sphere of engineering that thinks of nothing else?
In this episode we talk to Jake Sewell, a sound engineer, who tells us a bit more about the different roles in the music industry, including recording, producing and mixing.
Listen to learn more about how sound behaves, anechoic chambers, getting into this field of engineering and more!
Drones
These remote-controlled fan-powered aerodynamic flyers are very popular around the world, but they are not just fun to play with, they are being used in all sorts of ways.
To find out more we talked to Joe Gibson, who designs new drone technology, to find out what it is that makes them so useful!
Smart cities
One of the great things about engineering is that it's not confined to diagrams and laboratories, it's all around us, in our homes, towns and cities.
In this podcast we talk to Larissa Suzuki to find out how engineering and technology can help improve the spaces in which we live, work and play, and how our cities are getting smarter!
Wondering what makes a city smart? Listen to the podcast to find out!
Opportunities for young people
There are more opportunities for young people wanting to get into engineering then ever before.
In this podcast we will be checking out some exciting events that you can get involved in and talking to two engineers who have had very interesting experiences as young people, and now work at the forefront of new technology.
Medical AI
Medical consultants perform a vital job in our healthcare system – diagnosing diseases, such as cancer, and deciding on treatment options for each patient.
It's a job that takes an immense amount of skill, not least as no two patients – or tumours are the same – but it's one that is being given a massive boost by an exciting new sphere of medical engineering.
In this podcast we talk to Alyssa Randall on how computer intelligence is changing the way we will diagnose and treat patients in the future.
Cyber security
Cyber security is a vast underground world, and an enormous field in engineering – one where companies are in a constant race with hackers to keep us, our information and even our countries safe from attack.
We catch the latest from Adeeb who has developed a social media networking app, and worked on threat intelligence and malwear analysis. Find out the interesting facts from Adeeb as we explore more…
Manipulating materials
When you think of material, what comes to mind?
Here's the thing – there is a sphere of engineering dedicated entirely to materials, right down to the particles of their matter to develop smart new products.
In this episode we take a look at aerogel, the lightest solid that can hold the weight of a car and we speak to Chris Bellamy about what he does with ski goggles, sewing, testing products and more!
Santa called
Check out the latest podcast release to find out all about how he wants you to join in.
This year, Santa's STEM workshop is jam-packed with fun activities, crafts and experiments for all the family!
Listen in for a quick slice of festive spirit this December!'
Oceans
In this episode we find out about ocean tech and spoke to Vic Grosjean.
Vic Grosjean is an ocean innovator and engineer working to develop new technologies and solve problems like detecting sharks at busy beaches before they become a danger to the community.
Vic has also developed cutting-edge technology to monitor and remove pollution from waterways and clean up our oceans.
His environmental project, 'The Ocean CleanX', was awarded at the United Nations in 2018 for his approach in stopping the pollution at its sources. 
If you've enjoyed listening to this series of podcasts, why not download our Careers Pack for more information, have at go at some hands-on activities and sign up to our education bulletin for the latest competitions and updates each month.